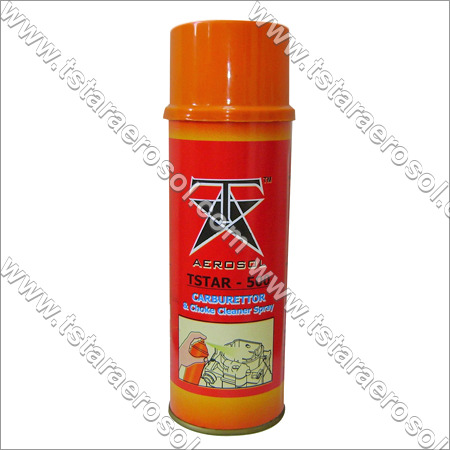 Carburettor & Choke Cleaner Spray
Product Description
We ''Tstar Aerosol'' are engaged in the manufacturing and supplying of Carburettor & Choke Cleaner Spray on a large scale. It is a kind of cleanser, which is widely used to remove different kinds of deposits, like dirt, oil, grease, gum, varnish and others. Containers made up of high grade aluminum metal are used to store the offered Carburettor & Choke Cleaner Spray. Basically, this kind of cleaner spray is especially designed to reduce the high exhaust emissions and broadly used in heat risers, automatic Carburettor, chokes, PCV valves etc.
Specifications:

It is a product with fast acts and is exclusively designed for its uses in automatic chokes, carburetors, heat risers, linkages & pcv valves.
It assists in reducing high exhaust emissions & solves the difficulty made by carburettor deposits.
Product detail
| | |
| --- | --- |
| Capacity | 350 ml |
| Brand | T STAR |
| Material | Aluminium |